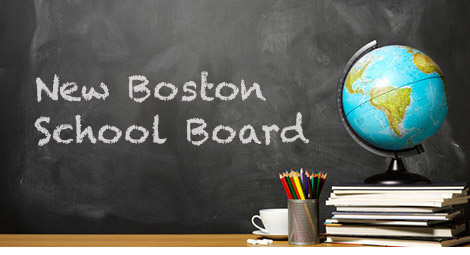 The New Boston Central School Board meets on the 2nd and 4th Wednesday of each month, at 6:30p.m.
Meeting notices and agendas are posted on our "Public Notices" page.
School Board meeting minutes can be found at the following links: School Board Meeting Minutes and New Boston Policy Review Committee Meeting Minutes.
Wendy Lambert, Chair (3-year Term expires 2019)
William "Bill" Schmidt (3-year Term expires 2018)
Glen Dickey, Vice-Chair (3-year Term expires 2019)
Fred Hayes (3-year Term expires 2020)
Kary Jencks (3-year Term expires 2020)
The School Board may be reached by email at This email address is being protected from spambots. You need JavaScript enabled to view it.
Educational Philosophy Statement Of The New Boston School District: The New Boston School District will seek to instill a love of learning in all our children through a well-structured curriculum that emphasizes linguistic development, mathematical skills, national and international social development, and a knowledge of scientific principles. We will also seek to instill in every student the concept of good citizenship based on the constitutional principles of the United States and the State of New Hampshire. At all times, we will strive to stimulate that innate and precious curiosity all children possess regarding their surroundings through the encouragement of individual initiative and cooperative process.
The administration, faculty, and staff of the School District will work cooperatively with New Boston Town Officers and Departments to insure a safe and healthy environment for our children within the school facilities and grounds where they spend so much of their formative years. Through our own cooperative and democratic example, finally, we will strive to prepare our students to become the future leaders of our community, state and nation.